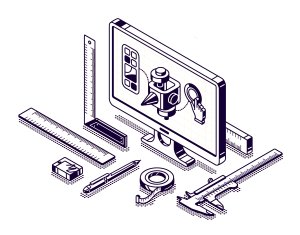 Our desing services include…
IoT and Industry 4.0 technologie
Do you want to upgrade your products? We develop customized projects for IoT and Industry 4.0 to be able to overcome the technical challenge of our clients, for this we design and implement embedded systems paying special attention to energy collection and management systems to ensure the greatest possible autonomy in our products.
Electronic design and ICT
Do you have a project? We design it by applying the latest trends and techniques so that you can enjoy the latest in the field of electronics.
Design

of Printed Circuit Boards (PCB)

Shall we give shape to an idea? We convert ideas into projects and this requires printed circuit design. With computer-aided design programs (CAD) we obtain all the necessary documentation to develop prototypes or mass-produce devices.
Mechanical and industrial design
If your projects require mechanical parts, we can create them adapted to your needs with the help of the most current computer-aided design (CAD) programs.
Tooling design for verification and start up

Do you need any tools, but they do not exist or are they out of your reach? Let us take care of it and put the latest electronic equipment verification tools in your hands.