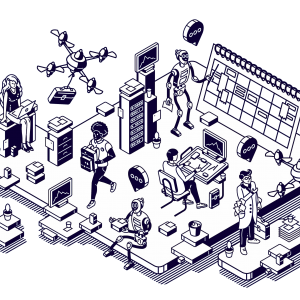 Our consulting service can advice in…
Product definition
Thanks to our methodology and good practices we can define the functionality and appearance of your product, using Design Thinking to provide solutions with lateral thinking, thus facilitating the management of your projects and solving the challenges that you propose to us in an agile and optimal way. advising you in the process on the selection of the most suitable components to obtain the desired results in the product.
Help to innovate
Our staff is up-to-date on the latest trends and innovations in the electronics industry. This knowledge gives us the ability to give the best results when advising clients who wish to innovate in their product range.
Advice for the CE market
We know the importance of complying with the requirements of European directives such as RED and RoHS when it comes to being able to commercialize a product in the European market.
We advise on safety in production environments following the ATEX regulations.
We ensure the durability of our designs complying with the waterproof standard (IP), mechanical resistance (IK) and the low voltage directive (LVD).